Biography
A little bit about Peter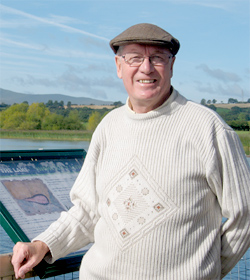 Peter was born in London, England just prior to the second world war. His childhood years were filled with the sights and sounds of war which influenced his early drawings. His desire to record what he sees is apparent in his current works that depict the urban and rural landscape that surrounds him.
At the age of sixteen Peter entered a seminary to test his vocation as a Catholic priest and foreign missionary in the Catholic Church. However the ordained ministry was not to be his calling. During two years of national service with the RAF he continued to study and gained his advanced level G.C.E in Art.
His career in the arts began as a display artist in Selfridges department store in the west end of London. In 1967, he and his wife Madeleine together with their three young children emigrated to Canada. He moved to Calgary joining the Hudson's Bay Co. as Assistant Display director. In the early 1970's he entered the design and store fixtureing field and continued in this field until 1990.
His return to the fine arts developed in the late 1980's with a strong desire to master watercolour as his preferred medium. At the urging of a close friend he enrolled at the Alberta college of art taking extension courses in watercolour, life & figure drawing and colour. His teacher at that time urged him to submit his work for sale in a gallery and shortly there after he was showing in a number of galleries in Western Canada.
Peter has now realized two life long desires, working both as a Catholic lay evangelist and as an artist. His artwork has supported his ministry which has taken him to many countries including the continent of Africa He is able to record his journeys in a growing number of unique sketch books.
If you are interested in purchasing art from this site or would like to know more about Peter's Ministry,
Peter Thompson
ph. 403 259 3690
email. peter@peterthompsonart.ca